Fallingwater Restoration and Improvements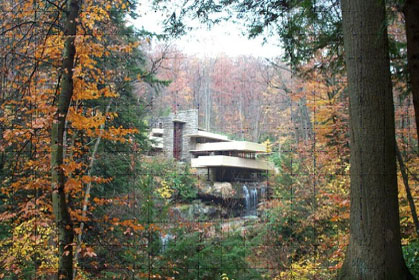 Photo used with the permission of the Western Pennsylvania Conservancy



Services: Technical & Financial Review of Grant Applications, Construction Phase Monitoring
Client: Commonwealth of Pennsylvania, Office of the Budget
Location: Mill Run, PA
Project Costs: $11.5 Million

The Western Pennsylvania Conservancy is currently performing renovations and improvements to Fallingwater, the Edgar Kaufmann residence, which was designed by architect Frank Lloyd Wright and constructed in 1936. The project's primary objective is the structural strengthening of the house, which has been successfully completed. Steel sash and wood restoration, roofing, waterproofing, and site landscaping is also in progress at the main house and guest house.

In addition to the work on the house, the following site improvements are in progress.

Underground utility placement
Sewage treatment facility
Improvements to the visitors' pavilion
Maintenance, education, and administration building
To undertake a project of this scope, the Conservancy obtained a grant from the Commonwealth of Pennsylvania through the Redevelopment Assistance Capital Program (RACP), as well as matching funds from several other sources.

Thomas & Williamson assisted the Commonwealth in reviewing the grant application and providing monitoring services for the Commonwealth during the construction phase.

During the Grant Application phase, we worked with the Conservancy and the Commonwealth to ensure that the numerous steps of the Grant Application — such as verification of funding, budgeting, estimating, and project planning — were completed in compliance with requirements.

As the project enters the construction phase, T&W continues the partnership by providing monitoring services for the Commonwealth. At periodic intervals, our team reports on both the financial and construction status of the project, including

Reviewing the receipt and uses of funds to ensure that sufficient funding is in place to support anticipated expenditures for design and construction costs.
Monitoring bidding and contract award procedures
Reporting on the status of construction schedules